Eric's Tip: Don't let the bleu cheese scare you away, it's amazing in this
dish. There are many varieties, so talk to your local cheesemonger to find one
that suits your taste.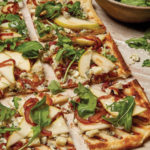 Print
Caramelized Onion, Pear & Blue Cheese Pizza
Ingredients
2 red onions, peeled & sliced
3 tbsp. butter
1 pizza dough, thin crust
2 pears, cored & sliced
1 cup bleu cheese
2 cups arugula
2 tbsp. extra virgin olive oil
½ tsp. sea salt
½ tsp. ground black pepper
Method
1. In a sauté pan, caramelize red onions with butter.
2. Preheat the oven to 400° F.
3. Grill the pizza dough on medium heat on both sides to desired doneness.
4. Top pizza with pears and bleu cheese. Bake in the oven for 10 minutes.
5. Toss arugula with olive oil, sea salt, and pepper.
6. Top pizza with arugula immediately before serving.